Co Q10 30mg
60 Vcaps of 30mg Vegan Co Q10, an important antioxidant which helps maintain proper energy levels, circulation, immunity and cardiovascular system.
Co Q10 30mg - Highly Popular Strength
This handy 30mg capsule makes it easy to take your Co Enzyme Q10 in a divided dose throughout the day, which helps to keep your energy levels up all day.
Presented in a gelatin-free capsule that utilises the same liquid Co Enzyme Q10 as our 60mg product for a greater bio-availability and stability.
Ubiquinol or Ubiquinone?
Co Enzyme Q10 (Co Q10) can also often be referred to as ubiquinol or ubiquinone, names of different forms of Co Q10 found within the body. There is a common myth that ubiquinol is more effective than ubiquinone, mainly due to a wave of companies who produced the ubiquinol form and then falsely marketed it as a superior version.
In reality, regardless of what form of Co Q10 you take, the body is able to convert the consumed form to the other form as and when needed. This means, if you take a reduced Co Q10 supplement (ubiquinol), the body can convert it to the oxidised Co Q10 (ubiquinone) and vice versa, depending on its requirements at the time. This conversion takes place to maintain a state of equilibrium between reduced Co Q10 (ubiquinol) and oxidised Co Q10 (ubiquinone).
Unquestionably, both forms—ubiquinone and ubiquinol—are effective and essential to important pathways in the body, and in states of need, either form can be reduced or oxidised to form the other.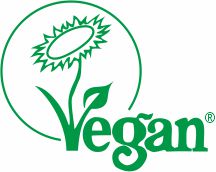 All Veganicity products
are registered with the Vegan Society
Customers who bought this product also bought
Customers who viewed this product bought